Is the use of dental implants in the All-on-4 Procedure approved by the FDA?
To be clear, there is no "FDA approval" for medical devices in this category. Use of the term "FDA approval" for this type of application is specifically prohibited. What the FDA provides is "authorization to market the device with specific labeling (Indications for Use)." The FDA in no way stands behind any implant device or procedure as far as efficacy.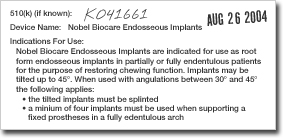 The labeling for most implants on the market, if they have entered the market based on the "substantial equivalence" clause, are limited to planned axial alignment within 30° of each other. Based on a submission of supporting data in 2004 to support the All-on-4 concept, all Nobel Biocare implants have additional flexibility in labeling to include tilted implants:
Therefore, while not a specific "All-on-4" FDA clearance, the combination of tilted implants and immediate loading for all Nobel Biocare Implants is authorized by the FDA, within Nobel Biocare labeling, to support the All-on-4 Procedure.
When was the All-on-4 Procedure developed and who did the initial development work?
"When" and "Who" can be broken down into development of the fundamental supporting treatment applications, and the bundling of these treatment applications into a treatment concept now known as the "All-on-4 Procedure."
Immediate loading of the fully edentulous mandible.
Paul Schnitman and team from Harvard were the first to publish on immediate loading of the fully edentulous mandible with fixed restorations in a prospective study, including a 10-year follow-up article, using Brånemark System implants
Noteworthy is that provisional restorations were supported by only three immediately loaded implants, placed in non-optimal positions. The immediately loaded implants were intended to be sacrificed while other implants remained unloaded but the researcher found that the majority of the immediately loaded implant integrated. This discovery formed the foundation for immedate loading as a viable treatment option.
Schnitman PA; Wöhrle PS; Rubenstein JE. Immediate fIxed interim prostheses supported by 2-stage threaded implants: Methodology and results. 1990 J Oral Implanto|(16; 2,; 96-105)
Schnitman PA; Wöhrle PS; Rubenstein JE; DaSilva JD; Want NH. Ten-year results for Brånemark implants immediately loaded with fixed prostheses at implant placement. Int J Oral Maxillofac Implants. 1997|(12; 4; 495-503)
Immediate loading of the fully edentulous maxilla
Dennis Tarnow and team from NYU published a study including Brånemark System Implants (as well as others) for immediate loading of both maxilla and mandible. However, usually 10 implants were installed, with 5 loaded and 5 buried, and showed that the immediate loading of maxilla was a viable treatment possibility.
Tarnow DP, Emtiaz S, Classi A. Immediate Loading of Threaded Implants at Stage 1 Surgery in Edentulous Arches: Ten Consecutive Case Reports with 1- to 5-Year Data. Int J Oral Maxillofac Implants. 1997(12; 3; 319-324
Support for a full-arch fixed restoration on 4 implants instead of the more common 6-8 for the maxilla and 5-6 for the mandible.
P-I Brånemark and team did a retrospective study comparing both mandibles and maxillae treated with 4 and 6 implants. Noteworthy in the study:
4 implants were used only because 5-6 implants were not possible
The only implants available at that time were 7 and 10 mm lengths
No consideration given to tilting or optimal arch form distribution as understood today
Results for both implant survival and prosthesis survival were identical whether four or six implants were used during the 10-year study period
No immediate load, standard 2-stage technique.
Brånemark P-I, Svensson B, van Steenberghe D. Ten-year survival rates of fixed prostheses on four or six implants ad modum Brånemark in full edentulism. Clin Oral Impl Res 1995; 6:227-231
CCMS is located in Denver, Colorado.
Use of tilted implants as a sinus inlay grafting alternative in the upper jaw
This technique was introduced by Yvan Fortin in Gothenburg, Sweden in 1993, as part of the graftless solution supporting the Marius Bridge.
Fortin Y, Sullivan RM, Rangert B. The Marius implant bridge; surgical and prosthetic rehabilitation for the completely edentulous upper jaw with moderate to severe resorption: a 5-year retrospective clinical study. Clin Impl Dent Rel Res 2002; 4:69-77
Fortin began with tilted implants in 1992. Bo Rangert, a biomechanical engineer at Nobel Biocare, participated in the Marious Bridge research in 1994, and did the early biomechanical analysis of why the concept was working. Rangert then took this information and helped promote the treatment concept to many clincial practitioners, mainly in Europe.
Mattsson T, Köndell P-Å, Gynther Gw, Fredhold U, Bolin A. Implant treatment without bone grafting in severely resorbed edentulous maxillae. J Oral Maxillofac Surg 1999; 57: 281-287
Krekmanov L, Kahn M, Rangert B, Lindstöm H. Tilting of posterior mandibular and maxillary implants for improved prosthesis support. Int J Oral Maxillofac Implants 2000; 15:405-414
Aparicio C, Perales P, Rangert B,. Titled implants as an alternative to maxillary sinus grafting: a clinical, radiologic, and periotest study. Clin IMplant Dent Relat Res 2001;1:39-49
Bundling it all together as a treatment approach
With the knowledge gained with Yvan Fortin, Rangert began working with Paulo Maló, taking the application of tilted implants, tying it together with immediate loading, and the deliberate use of only 4 implants (after studying use of fewer and of more), to bring about the All-on-4 concept.
Maló began working with immediate loading in 1997. His first documented cases with the All-on-4 for the lower jaw begin in April 1998 and for the upper jaw in February 2001. The All-on-4 as an integrated treatment concept was introduced by Nobel Biocare in September 2004.
Maló P, Ranger B, de Araújo Nobre M. All-on-4 immediate function concept with Brånemark System implants for completely edentulous maxillae: a retrospective clincial study. Clin Implant Dent Relat Res 2005; 5 (Suppl 1):2-9.
Maló P, Ranger B, de Araújo Nobre M. All-on-4 immediate function concept with Brånemark System implants for completely edentulous maxillae: a 1-year retrospective clincial study. Clin Implant Dent Relat Res 2005; 7 (Suppl 1):S88-94
Has ClearChoice published any research related to the All-on-4 Procedure?
ClearChoice has been performing All-on-4 Procedures since 2006, and has completed thousands of successful cases. The ClearChoice Clinical Advisory Board has recently commissioned both retrospective studies of patients treated with the All-on-4 Procedure, as well as prospective studies for both the mandible and the maxilla. We expect that the first retrospective study should be published late 2009.
Dr. Ole Jensen also has submitted two artilces regarding the All-on-4 Procedure and treatment to the Journal of Oral and Maxillofacial Surgery, and both have been accepted and will be published in the coming months.
Who can I call if I have questions about the All-on-4 technique used at ClearChoice?
If you have questions about this technique, and particularly how it is applied at ClearChoice, please feel free to contact the professional at your local ClearChoice Dental Implant Center. Find a ClearChoice center nearest you:
You also may contact members of the ClearChoice Clinical Advisory Board:
Dr. Ole Jensen, Oral and Maxillofacial Surgeon, Denver, CO
Dr. Stephen Parel, Prosthodontist, Dallas, TX
Dr. Charles Babbush, Oral and Maxillofacial Surgeon, Cleveland, OH
Dr. Mark Adams, Prosthodontist, Denver, CO